History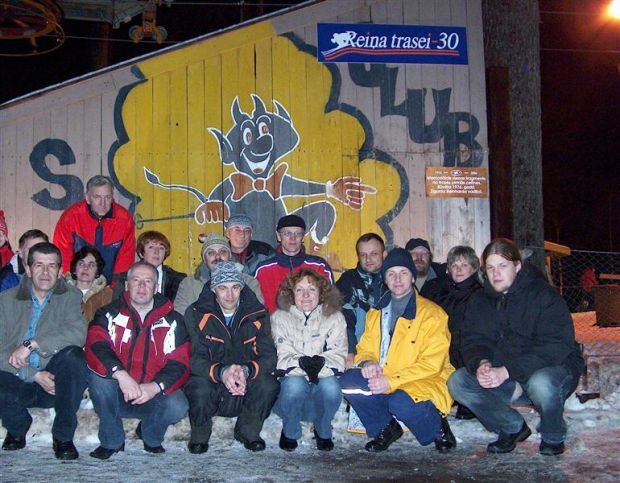 Once upon a time there lived and skied a man named by Reinis ...
36 years ago was established his track No. 13, that people named by Reina track.

Reinis, in his real name Zigurds Reinhards, was born in 1925. As a Sigulda High School physical education teacher, all his life he was active supporter of sport life of Sigulda and of Latvia.

In 1977 students of Riga High School No.1 and students of Sigulda High School No.1(including the current track owner Olavs Legzdiņš), leading by Reinis started to build the track in owergrown river side of Vikmeste.
In a further build and skiing active life participated many people, including nowaday well-known people.

By the time when all other tracks were closed type, this was a place where dominated democracy, unique spirit of Reinis and active lifestyle. There was only one law– each had to learn to ski or at least had to try. This law is still in force today, as a special democratic atmosphere.
More than ten years Zigurd Reinhard leaded and organised famous Krimulda – Reina mountain skiing cup. As a law, in Reina track were held the last matches, frequently in the middle of April, because of the north river side you could do skiing, even if in other places flowers bloomed.
After two years was built first lift and Reina hovel, part of it you can see even today. Over time were created ski jumps, ski house and a second lift.

Thanks to the lighting during evening and night hours Reina track was one of the first tracks for the main night events.
After five years of warm winters, political and sport thaw in 1992 was made farm "Kalnzaķi" in whose territory was included track.

From 1996 farm started to upgrade track to modern requirements.
Year 1996/1997 - is built ski house – cafe.
Year 1997/1998 – first time in Latvia – in public tracks are built disc-shaped lift with spring boxes (Doppelmayr)
Year 1998/1999 – initiates the production of artificial snow, is made a beginner hill, improved equipment rent.
Year 2001/2002 – powerful snow tractor start its work on track, that provides perfect snow cover throughout the season.
Start to create the snow park.
Year 2002/2003 – is made 3 km long cross country skiing track. 1 km circle is provided with artificial snow and lighting for classical and free skiing.
Season 2003/2004 – first time in Latvia put up new lifter by Doppelmayr, that improves service quality of skiers and snowboarders.
- New building for equipment service, shop and equipment rent, 69 new rental equipment sets.
- Snow production provided by 4 snow guns.
Season 2004/2005 –in the main track are putting up one more new lifter by Doppelmayr.
Season 2005/2006 – purchased first in Latvia new Pisten Bully snow tractor, also halfpipe cutter and cross country track towed equipment.
Snow production provided by 5 snow guns (3 Areco Supersnow, 2 TechnoAlpin M18).
Built new Reina cafe building on the top of the main track, with modern interior and extensive menu offer.
Installed an electronic ticketing system .
Acording to all standards created first ramp (halfpipe) in Latvia.
Season 2007/2008 moved and transformed snowboard park.
Opened Reina guest house with cosy rooms, apartments, conference room and Reina terrace with a view to the cross country skiing track and children park.
Created children park with new SunKid moving band lift and SunKid children park elements.
Created special children skii school.
Season 2008/2009 – purchased time control system.
Next to the cross country skiing track parking space covered with asphalt surface.
Season 2009/2010 – purchased 2 new TehnoAlpine snow guns.
Purchased new cross country skiing equipment from FISCHER.
Season 2010/2011 – purchased skiing and snowboarding grinding stand.
Purchased a cross country skiing glide surfaces recovery set.
Season 2011/2012 purchased children skiing training carousel SunKid Rotondo.
Purchased snow guns TechnoAlpin M18 Premium D.
Supplemented golf equipment, purchased golf ball washer and golf electromobile.
Installed web cameras.
Season 2012/2013 built 2 new guest houses accommodation for up to 9 person.
Built information center, purchased multimedia system and equipment for seminar hall.
Purchased new skiing equipment from FISCHER.